Welcome to Haven of Light CIC / Croeso i Hafan o Oleuni
Haven of Light CIC is a UK non-profit organisation focusing on prevention, awareness raising and support for survivors of Modern Slavery and Human Trafficking in North Wales.
Company House Reg. 10753567/NEWDIR

About Us


Haven of Light CIC or Hafan o Oleuni in Welsh, was formed in May 2017 and is a UK non-profit organisation focusing on prevention, awareness raising and support for survivors of Modern Slavery and Human Trafficking in North Wales.

Did You Know?

There are more slaves in the world today than ever before!


It is estimated that 45.8 million people are caught in slavery, in 167 countries! (Global Slavery Index)

Throughout the UK there may be up to 13,000 individuals who are being exploited (UK Home Office)

In 2016 victims in the UK came from 108 countries (Co-Op)
Haven of Light CIC focuses on Awareness Raising, Prevention and Survivor Support and we work in partnership with Public Sector Agencies, The Third Sector and Charities, Churches and Faith Movements and the Local Business Sector.

Haven of Light CIC also works in collaboration with national & international anti-slavery organisations.



Support Us


Help support our work by donating through our LocalGiving site here. (opens new window/tab)

SAVE THE DATE : October 12th 2018
On Friday October 12th, Haven of Light and Partners in North Wales will be hosting a 'Modern Slavery Forum' for discussion and sharing about the current work being done. ALL WELCOME
What is Human Trafficking and Modern Day Slavery?
Human trafficking is the action or practice of illegally transporting people from one country or area to another, typically for the purposes of forced labour or commercial sexual exploitation.

It is effectively the trading of human beings for financial gain.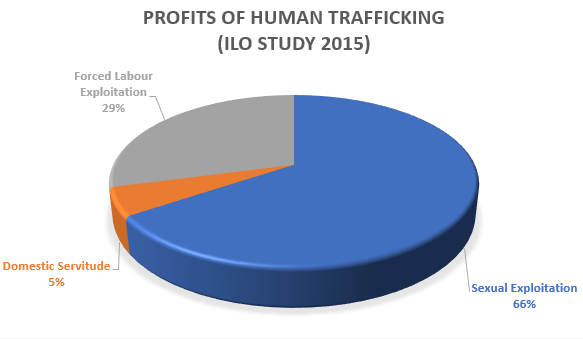 According to the International Labour Organisation (ILO), one component of human trafficking, forced labour, generated an estimated $150 billion in profits every year as of 2014. It is thought to be the second most profitable crime in the world. In addition, the ILO estimate that over 21 million people are trapped in modern day slavery. 68% of these people where exploited for labour and 22% were sexually exploited. 10% were imprisoned in state-imposed forced labour.

Why Does It Happen?
Modern day slavery is often referred to as a 'hidden crime' as victims do not see themselves as being involved directly until it is too late, often through naivety, or because they are frightened of talking to the authorities due to threats of violence from their captors.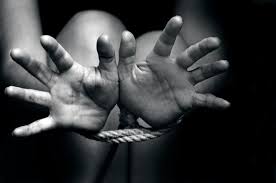 Criminals who traffic people do so by promising people non-existent jobs at first. Once the criminal has control of the victim they will continue to coerce them through intimidation, and the threat of violence.

Victims then become completely trapped in their environment, often without a way of communicating with the outside world.




Signs of Human Trafficking or Modern Day Slavery in North Wales - What to look out for...

Modern day slavery is no respecter of borders and while North Wales is a relatively safe place to live, it is a fact that modern day slavery exists here.

Here are some of the things we need to look out for. This list has been provided by North Wales Police and is not exhaustive.


People living and working at the same address
People collected very early in the morning and/or returned late at night on a regular basis
Being driven between premises rather than arriving or leaving on foot
Signs of injury, malnourishment and a general unkempt appearance
Isolation from the rest of the community/limited social contact
The Home Office has produced a great booklet that we recommend you read. You can view it by clicking here.
What Are Haven of Light CIC Doing To Stop Modern Day Slavery in North Wales and How Can You Help?
Awareness Raising
Haven of Light's aim is to raise awareness of modern day slavery and human trafficking in North Wales.
This is a very important objective because the realities of modern slavery and human trafficking are not well known and understood among the community in North Wales.
We therefore continue to give presentations to various groups, churches, schools, etc. about the types of exploitation and the signs to look out for. After the presentations the audience has a better understanding of modern slavery and are more likely to contact the national helplines / police to report suspicious incidents.
We prepare and distribute literature, and are developing social media platforms.
We are developing a 'peer learning' project with local young people.
We are available to work with public sector agencies such as North Wales Police and the PCC to deliver training, and have prepared multi-lingual materials about signs and dangers of trafficking, which have been used in raids and operations.
Prevention



Prevention work concentrates on stopping exploitation before it starts! We identify vulnerable groups and individuals and reach out to teach them about the dangers of grooming and abuse. An example of this is The Conwy Youth Panel 'Peer Learning' project. Social media initiatives and outreach are in development and will be rolled out this summer.

Supporting Survivors



We are in talks with the Church in Wales, to provide assistance to the police and other agencies in taking victims to a safe and comfortable place for them to be processed, interviewed and then entered into the National Referral Mechanism.

We are currently looking at long-term safe house facilities and projects within in North Wales. eg Coop, Bright Future

We will work in partnership with Barnardo's who deal with child victims.


How Can You Help Us?

Spread the word and tell people about our website. You can also 'Like' us and share our Facebook page with your family and friends. https://www.facebook.com/HavenofLightCIC/
Contact Us


You can contact us in a number of ways, either via our Facebook Page here or through our Twitter here. We are also on LinkedIn here.

You can also leave us a message through the website by using the form to the right.

In addition, you can also write to us;
Haven of Light CIC
CVSC, 7 Rhiw Road
Colwyn Bay
Conwy
LL29 7TG

If you believe you have witnessed evidence of modern-day slavery in your local area, phone the police.

If you need to, you can also call us on 07929 777347
How to report a crime
If you are in immediate danger, call 999. Call 101 for non-emergency enquiries
Modern Slavery Helpline: 0800 0121 700
Haven of Light CIC / Hafan o Oleuni is a Community Interest Company registered in the UK - Company House Reg. 10753567/NEWDIR